WebsiteName :www.socalpilots.org1 - SELECT DomainID, Domain, WebsiteName, WebsiteCode, WebsiteChapter, SQLDBName, WebsiteHomeDir, WebsiteHomePage, AutoEmail, AutoWaiver, AutoBlog, AutoSubscription, LogEmail, useMultiCo, https_on, Translate, CoCode, WebsiteDisplayName, MetaDescription, MetaKeywords, MetaClass, MetaTranslate, OutPanelRight, InPanelRight, OutPanelLeft, InPanelLeft, MenuType, ExtPax FROM WhatWebsite WHERE Domain='www.socalpilots.org'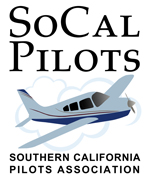 Advertisers
---
Southern California Pilots Association Mission
To provide a collective voice for General Aviation at our So CA Airports
Develop a positive working relationship with the airport administration.
Foster camaraderie amongst So CA Pilots with aviation related events.
Enhance safety and education in the So CA Pilot community.

Welcome to the SoCal Pilots Association Website!

The SoCal Pilots is a recognized voice of general aviation in Southern CA. SoCal Pilots is an educational and Social organization. We provide an opportunity for our members to fly to unique destinations and spend quality time with like minded pilots & airplane enthusiasts. Please review some of our
Prior SoCal Pilots Events
to see some of the exciting places we have visited or events we have hosted.
We hope to see you at one of our many upcoming SoCal Pilots meetings or fly-in events soon.
Join as a Member
. The dues are $ 35/member which help support the following many features available to SoCal Pilots Members.
Calling all GA Pilots to Action !! Orange County is pricing out small GA! Is your airport Next ?
The Problem :
Tiedown and Hanger rental rates at KSNA have dramatically increased and are pricing small GA out of the airport with little other options available.
Click on the year below to see prior events and watch recorded webinars